This painting was created by putting the wood panel on the ground and then standing over it with viscous acrylic paint and flinging it (think musical conductor / wizard). creating a field of polished lace.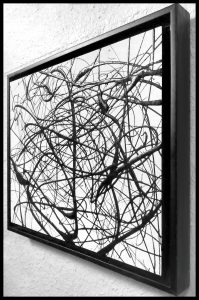 Stare at the lines long enough and a scene begins to emerge. After many hours meditating on the lines, I recognized an eye of a cat.
This cat is annoyed with these rambunctious birds overhead so he pounces on them.  In the lines is this Angry Bird Catcher  putting the squeeze on them as he stares them down. This is one of two pieces that compliment each other. The exercise here was to use an iPod to both photograph the drip painting and, along with the Art Studio app, Extract a scene.